Votre abonnement a été confirmé.
Your subscription has been confirmed.
In the News & On Our Minds
Media clippings and op eds from our team.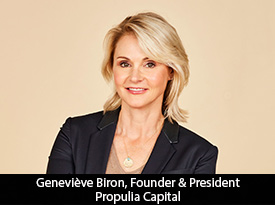 Women in leadership roles are dependable, committed, and eager to put in the extra effort needed to make their business successful, a study reveals. Female leaders of today are drawn to and motivated by heart-based leadership. Geneviève Biron, founder and President of Propulia Capital, a Venture Capital firm based in Montreal, is one such brilliant leader. She brings an optimistic view of the business world to everything she does. The Silicon Review reached out to her for an interview and spoke to one of her executives. Here's what she had to say about Geneviève Biron and her outstanding leadership qualities. 
read more